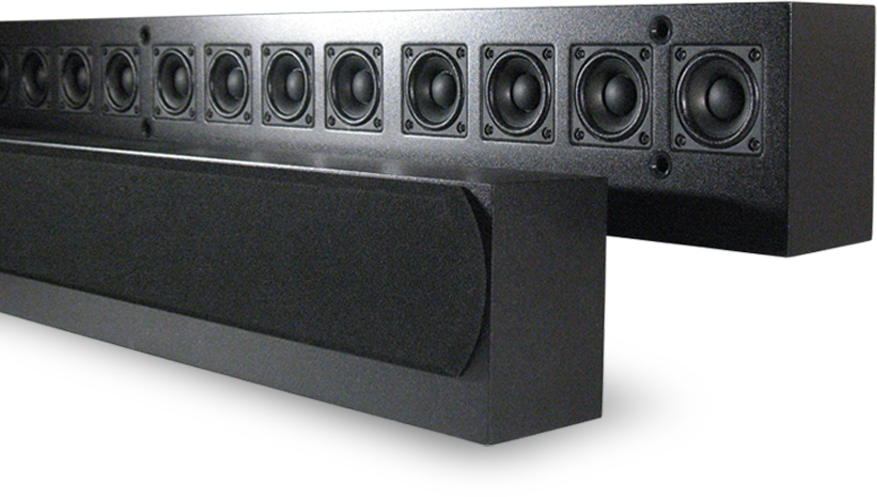 One Bar
The Only Soundbar Your 4K TV Deserves
Engineered and manufactured in Silicon Valley
Exclusive 3D Virtual Sound Processing
16 low-distortion Class-D power amplifiers
16 full-range 2.25" speakers with neodymium magnets
8 passive radiators for enhanced mid-bass performance
Accepts stereo, 5.1 and 7.1 audio formats
Streams Wi-Fi from smart phones and tablets
Remotely controlled by smart phones and tablets
Accesses Internet through home Wi-Fi network
Sleek, streamlined design matches any décor
Excellent sound quality for music and movies
A 3D Guided Tour

One Bar

How We Built a Revolutionary Product.

An Inside View

One Bar

Your Personal Guided Tour.

Brains and Brawn

One Bar

A Powerful Combination.

THE POTENTIAL OF

One Bar

One Bar is a revolutionary product.

THE DIFFERENCE

One Bar

How does One Bar compare with other soundbars?

The Electronics

One Bar

The Brains of the System

The Acoustic Design

One Bar

Custom Speakers and Precise Tuning

How do you make the onebar blend into home decor?

One Bar

It is all in the difference between hearing and seeing.

Assembled in California

One Bar

With No Plastic Parts

Assembled in California #2

One Bar

One at a Time, With Quality Materials

Breakthrough Spatial Sound Performance

One Bar

Listeners are immersed in a large, wide, panoramic soundstage. No other soundbar is in the same class.

How it Works

One Bar

Similar to 3DTV, our technology creates separate right-ear and left-ear sound waves, each with its own timing, phase, amplitude and bandwidth. We then use a technique we developed that blocks the brain from detecting the right-ear sound wave at the left ear, and vice versa.

Power Amplifier Design

One Bar

How we fit sixteen 30-Watt power amplifiers into soundbar.

Lots of Processing Power

One Bar

A custom 16-channel parallel processor drives each speaker with its own channel.

No buttons, no display!

One Bar

Controlled by smart phones and tablets.

Linux Computer Inside

One Bar

Rasperry Pi, a miniature Linux computer motherboard, provides Wi-Fi streaming and touchpad remote control.

How Do I Stream Music From My Phone?

One Bar

With Just a Few Simple Steps.

How Do I Control One Bar?

One Bar

Wi-Fi turns phones and tablets into touchpad remote controls.
Get to know more about One Bar
Call us at 925-223-8464 and we'll help you design a "best-in-class" home theater system.
Call us at 925-223-8464 to schedule a free, no-obligation One Bar demonstration at your home. If you are satisfied with One Bar's sound, it can be installed immediately (limited to the San Francisco Bay Area).
See our ads in H&L Magazine (San Francisco Bay Area)
Package discount when you buy the matching AV preamplifier.
"White Glove" delivery and installation also available throughout the USA.